Philanthropy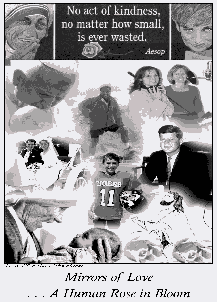 About Mercy Corps
About The Missionaries of Charity
About The Princess Diana Memorial Fund
About The Princess Grace Foundations
About The Depot Music Institute
Events
CCQH, Inc. is dedicated to the support of humanitarian organizations that nourish the needy and inspire the inner beauty within us all to blossom into true leadership. By celebrating the centered qualities of humanity, these organizations are building

a vision for a new Camelot where the essence of Love drives the human spirit toward courageous living, in service of our neighbors and the attainment of peace, joy, and harmony on earth.
CCQH is committed to a tithing program where partial proceeds from all its products and services will be donated to Mercy Corps. CCQH also supports the above-mentioned organizations through promotion, special projects, and participation in planned fund-raising events.
CCQH is also dedicated to promoting leadership within youth and anyone on the verge of their greatness through a newly developed program of Leadership Awards.